9 Best Sellerwizard Practices to Reduce COD Failure Rates and Returns & Refunds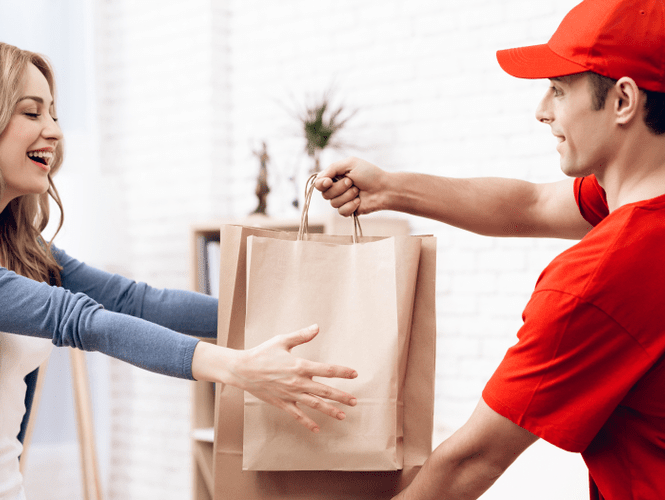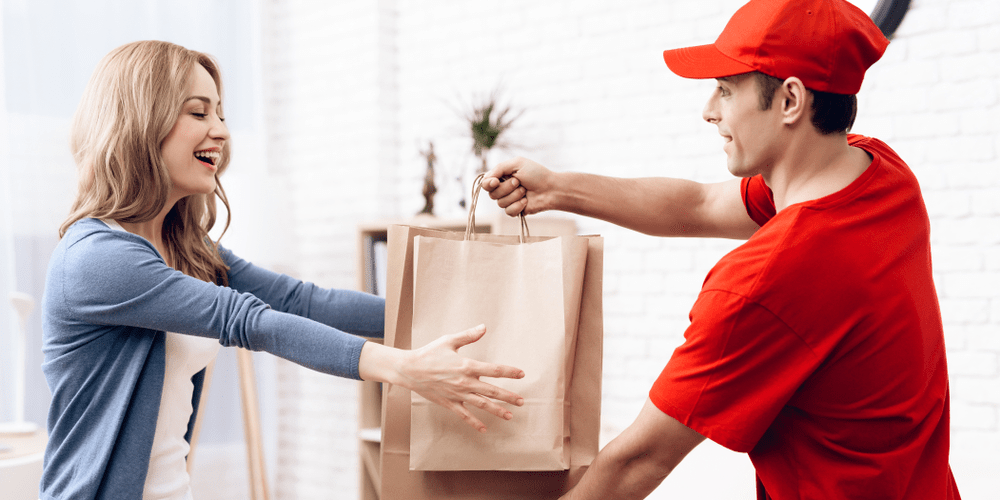 Introduction
In recent years, businesses have undergone a revolution due to e-commerce, making it possible to sell products online. While the prospect of having an additional sales channel is enticing, retailers face stiffer competition, as it now becomes a battlefield of low prices, convenience, marketing, and more. Those who succeed are usually retailers that deliver the most value to consumers. Speaking of a good e-commerce experience, offering Cash-On-Delivery(COD) as a payment method is a plus point to your business. However, it is also susceptible to abuse and may reduce profit earnings.
This blog will walk you through practical ways to reduce COD Failures, Money Returns, and Refunds.
What is Cash On Delivery (COD)?
Cash on delivery (COD) is a type of payment that requires customers to pay when they receive goods.
It is common for manufacturers and distributors to deliver goods to thousands of customers every day. These customers can range from big-box retailers to mom-and-pop shops with different levels of creditworthiness.
A seller may require customers with poor or unestablished credit histories to pay in full when their order is delivered rather than on credit. Using COD, the seller avoids potential credit risks associated with extending credit to these customers and receives payment faster. Still, there are significant risks associated with this payment method.
How does cash on delivery work?
A COD customer will select cash on delivery as their payment method. After the customer receives their order, they are responsible for paying the amount owed. Usually, the customer pays a shipping or logistics partner who then directs funds to the seller after subtracting any handling charges. If COD customers pay on credit, the seller must invoice them. So, the COD customers will also receive the invoice when the delivery arrives.
Why do online shoppers prefer cash on delivery?
Despite technological growth, payment options like credit/debit cards, net banking, and e-wallets still account for less than 30% of online purchases. There are several reasons for this:
There are more and more online stores sprouting every day. Since customers need to learn the legitimacy of these stores, they fear being scammed.
Cash payment has been the norm since the beginning of time, and customers are familiar with it.
The ease of cash payment enables one to pay for the product or service received and be done with the transaction.
The post-purchase order stress persists, for example, refund duration, refund not received, refund not allowed by some merchants, etc.
Customers sometimes prefer cash on delivery to be sure what they're buying. In cash on delivery, they can check the product in front of the delivery person before accepting it. This way, they can receive a damaged/wrong product and get a refund.
To sum up, COD (cash on delivery) provides assurance and confidence to customers to shop online freely. It encourages customers from around this country to shop online and not worry about limited payment methods.
The pros and cons of COD to Sellers
Pros of offering COD
Gain Customers' Trust: Although we are becoming more digitally advanced, online scams keep coming. Customers are more likely to trust a brand when using COD as a payment method. They know that once a product has been received, they will only be responsible for the payment.
Increase your customer base: Online businesses can reach more customers with cash on delivery. Companies can participate in these markets better with COD.
Enhances impulse buying: Using COD as a payment method makes it easy for customers to buy quickly. In addition, customers are more likely to do impulse shopping since they don't have to prepay, meaning they don't have to fill out payment details (additional steps). This leads to faster checkouts and more impulse purchases.
Sales growth: It benefits suppliers to accept cash on delivery, allowing them to do business with customers they wouldn't otherwise extend credit to. Rather than taking the risk of offering credit to those customers from the start, COD lets suppliers allow them to build their credit history while still getting serviced.
Cons of offering COD
Extra Cost: Delivery partners will charge additional fees for COD orders. They set a different price for returned orders because they have to deal with the operational costs of returning the item to the seller. On top of these costs, the seller must pay forward and reverse logistics expenses. One is the cost of shipping the item, and the other is the cost of returning it to the seller. 
Restricted Cash Flow: Unlike digital payments, which transfer to online sellers' accounts almost immediately, cash-on-delivery payments reach their accounts pretty late. As a result, cash flow is restricted, and maintaining daily operations becomes more difficult. And if there are returns/refunds, things become even more complicated. Drivers can get delayed when making deliveries if they wait for customers to make payments. 
High Returns: Buyers have nothing to lose when they use COD as a payment method. The main problem is the high RTO (Return to Origin). As the buyer doesn't invest himself in the transaction, if the customer declines the order, the online business will incur a loss. There is no obligation to accept the order, nor is there any fear of prepayment. 
Refund Issues: COD refund policies differ from prepayment policies. There are a few challenges that come along with it as well. This is an error-prone, time-consuming, and manual process. Moreover, the refund takes 5-7 business days to be processed.
Cash-on-delivery exploitation: What impact does it have on the business?
Cash on delivery is the most common method of enticing customers to purchase a particular product. The security provided by this method makes it a popular choice among customers.
However, it is also prone to misuse by consumers. Some customers will order high-priced products and reject them at the last minute. This can result in a massive loss for businesses and sellers. As the item is high-priced, so is its package. Everything ends up to waste, starting with packaging prices to transportation. The high shipping price will take away the profit that the seller could have made. 
From the customers' perspective, it seems normal, but it isn't very pleasant from the seller's perspective. Because of this, it makes cash on delivery an insecure payment option for the seller since the shipping charges are doubled for every return and reattempt.
Best practices to reduce COD failure rates and money returns & refunds
One of the main reasons for integrating the cash-on-delivery method into the business is that it helps increase the number of customers. Not everyone has access to online payment so COD becomes the only viable payment option.Despite the challenges it has, COD offers undeniable advantages to your business. To fully enjoy its benefits, you have to take active measures to reduce COD failures.
Here are some ways to do it:
Make a trustworthy business/brand: To build a reliable business reputation and brand image, you need quality products, exceptional customer service, positive reviews, testimonies, and feedback from satisfied customers.
Provide quality products: Ensure that your products are of high quality and meet or exceed your customers' expectations, which is worthy of the price they are willing to pay. This will help your shop develop a positive reputation, making customers more likely to leave positive feedback.
Offer exceptional customer service: It is essential to provide excellent customer service, including prompt and helpful responses to any questions or concerns your customers may have. By this, it can maintain positive customer experiences.
Display feedback prominently: Build trust and credibility for your shop by displaying positive feedback on your website or social media pages.You can build a trustworthy shop through reviews, testimonies, or feedback by providing quality products, excellent customer service, and a willingness to listen and respond to customer feedback. Following these tips can establish a positive reputation for your shop and attract loyal, satisfied customers.
You can build a trustworthy shop through reviews, testimonies, or feedback by providing quality products, excellent customer service, and a willingness to listen and respond to customer feedback. Following these tips can establish a positive reputation for your shop and attract loyal, satisfied customers.
Provide a generous return policy for online payments: A return policy should be highlighted on the page to add credibility to your terms. Customers nowadays expect another option if something goes wrong with their purchase.
The charge for COD: You should charge a fee for cash on delivery if it does not harm your business. It is OK to charge a nominal fee for COD. As a result, people will switch from COD to other online payment methods, removing the extra baggage associated with cash on delivery. In addition, education on cashless delivery options can contribute a long way to setting a healthy balance between prepaid and COD delivery.
COD confirmation: You can still ensure seamless delivery if the customer chooses COD by confirming their order, communicating at every stage about a delivery, and building trust.
Keep the customer engaged: The customer should always confirm the order details, especially if it is a high-value order. Confirm the products, address, etc. 
Ensure quick dispatch:
Be careful to keep your promises high.
Try to dispatch ahead of schedule.
Ensure that shipping occurs and provide support with tracking and shipping dates.
Ensure they have the correct addresses, product details, design files, etc., to get it shipped quickly.
Contact your delivery partner if there is something going wrong during the COD process.
Provide updates as they happen: Keep customers informed about backend processes; simplify them, but keep them up to date. Inform them before delivery that cash will be ready when the product arrives. If the customer is out of the office and cannot take a call, communicate via WhatsApp or email at a convenient time. Coordinate delivery with the courier partner.
Put a maximum purchase limit on COD: You can eliminate fake consumers with a minimum and maximum COD limit. By doing this, it engages real customers.
Offer COD only on limited products: Customers can purchase smaller items via COD, but they will be better off using a credit card for heavy and expensive items.
Offer COD Confidently With Sellerwizard
As you can see, maintaining an e-commerce business is challenging in many aspects, from risky CODs to aging stocks. Fortunately Sellerwizard is here to make these processes much more manageable.
Keeping track of the health status of all your COD parcels will allow you to take proactive measures before any problems arise. You can contact the courier before your customers know about an issue by looking at Sellerwizard's summary page to see which parcels require attention.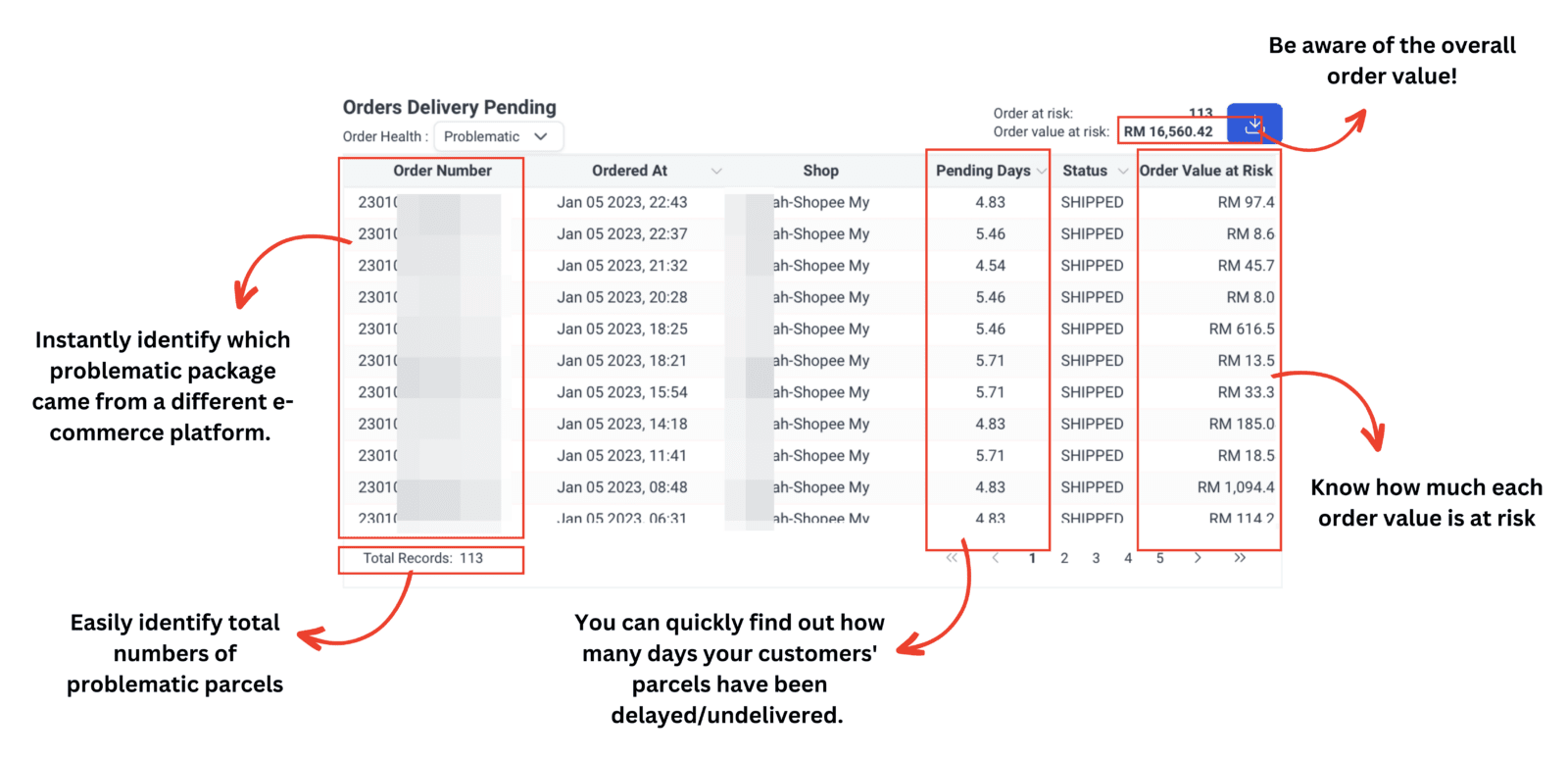 You can select Healthy or Problematic status on the OPS Report Dashboard.
The problematic parcel status displays how much of your order value is at risk and how many days the parcel is delayed. This demonstrates exceptional customer service, creates a positive impression, and makes them feel valued by proactively informing your customers about delivery concerns.
Furthermore, it shows that you are trying to keep customers satisfied. Sellerwizard also prevents negative feedback and customer complaints.
Using Sellerwizard will not only benefit your business, but you will never have to waste time monitoring your customers' packages again. With this powerful application created by ex-Lazada / Shopee experts, these issues can now be eliminated.
You will surely see an improvement in your business performance with this intelligent tool. When the business performs well, more customers are attracted, which leads to increased sales. A higher sales volume means more revenue and a better bottom line.
Benefits of Using Sellerwizard for Risky COD Orders
As a seller, using Sellerwizard can provide you with several benefits, such as:
Proactive parcel management: Sellerwizard helps you keep track of the health status of all your COD parcels, enabling you to take proactive measures before any problems arise. This means you can contact the courier before your customers know about an issue, thus improving the customer experience.
Exceptional customer service: With the problematic parcel status feature, you can inform your customers proactively about delivery concerns, which shows outstanding customer service and creates a positive impression. This can also help prevent negative feedback and customer complaints.
Improved business performance: Using Sellerwizard, you can minimize losing potential sales due to risky COD orders, improving your business performance. When the business performs well, more customers are attracted, leading to increased sales, revenue, and a better bottom line.
Time and resource efficiency: Sellerwizard eliminates the need for manual tracking of your customers' packages, saving you time and resources that you can use to focus on other aspects of your business.
It's so easy. This tool is available in Malaysia, Singapore, Thailand, Indonesia, and the Philippines. It lets you connect multiple e-commerce platforms such as Shopee, Lazada, TikTok Shop, etc.
You don't have to waste time and resources tracking them manually when you have a powerful, free tool at your fingertips!
Overall, using Sellerwizard can improve your business's efficiency, customer experience, and performance. It's a free tool to help you take your e-commerce business to the next level.
Conclusion
In conclusion, businesses must balance their efforts to please customers with their bottom line. While customer satisfaction is critical to business success, it should not come at the expense of the business. To prevent the misuse of COD and maintain profitability, companies must take active measures now. However, companies can use tools like Sellerwizard to improve their customer service and prevent negative feedback and customer complaints while streamlining their operations. The problematic parcel status feature of Sellerwizard proactively informs customers about delivery concerns, which creates a positive impression and makes them feel valued. Businesses can save time and resources by automating the tracking of customers' packages.
Additionally, the application created by ex-Lazada/Shopee experts instills confidence in companies that these issues can now be eliminated. Using Sellerwizard can lead to an increase in business performance, sales volume, and revenue. With Sellerwizard available in several Southeast Asian countries and allowing businesses to connect their stores from multiple platforms, it is an easy-to-use and accessible tool. In summary, companies can strike a balance between customer satisfaction and profitability by taking active measures to prevent misuse of COD and using tools like Sellerwizard to enhance their operations
This AI-powered tool, Sellerwizard, is currently free for limited 500 accounts. Act now before you regret it!
You can connect your stores (Shopee, Lazada, Tiktok Shop, Zalora, Shopify, and more). This tool is available in Malaysia, Singapore, Thailand, Indonesia and the Philippines.