A deep dive into the E-Commerce players in SEA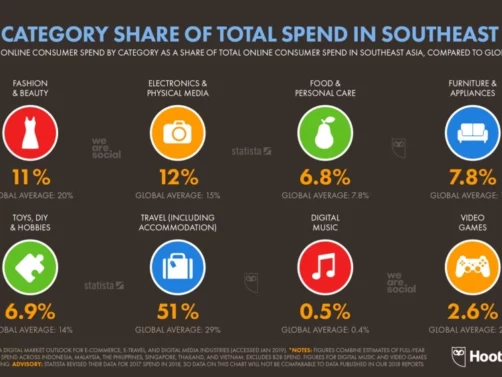 As we've seen in previous articles in this series, hundreds of millions of people across Southeast Asia already shop online, and the region's ecommerce adoption rates are amongst the highest in the world.
Southeast-Asian nations are experiencing rapid ecommerce growth, too. Data from Statista show that the value of online consumer goods purchases in Southeast Asia grew by more than 25 percent last year, while online spend on travel – already the region's largest ecommerce category – grew by 17 percent.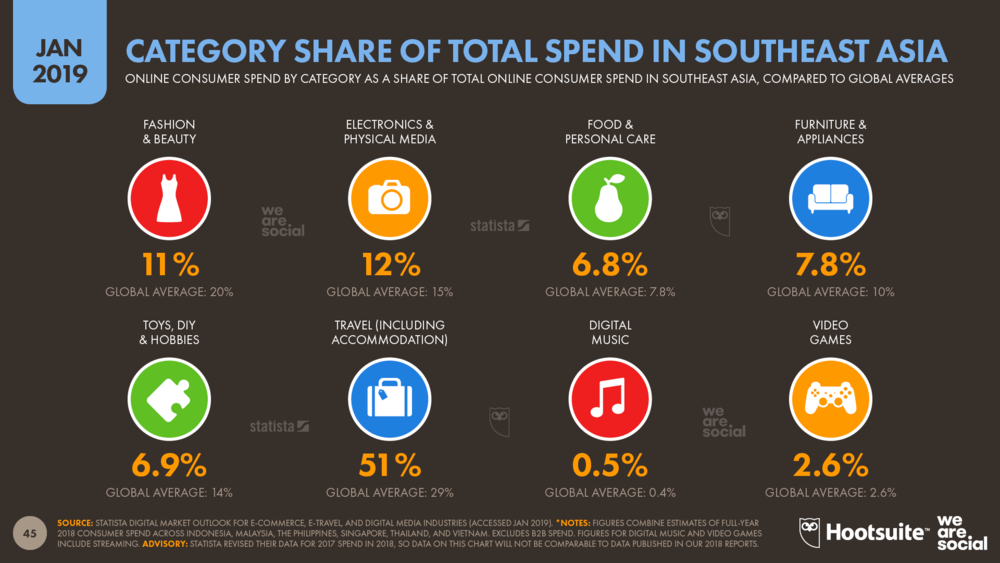 In this article, we'll take a closer look at some of the brands and platforms that are successfully tapping into Southeast Asia's growing ecommerce opportunities, before going on to look at some of the key opportunities and challenges for the future in our next post.
Asian retail brands dominate ecommerce in Southeast Asia
Data from SimilarWeb and Alexa show that Amazon and Taobao dominate the global ecommerce landscape.
However, when we look more closely at the consumer ecommerce websites and apps that attract the greatest number of visitors and users across Southeast-Asian countries, a slightly different story emerges.
Sure enough, Amazon is gaining momentum – particularly in Singapore and the Philippines – but the latest data from both SimilarWeb and App Annie show that it's homegrown brands like Shopee, Lazada, and Tokopedia that dominate the Southeast-Asian ecommerce landscape.
Just before we dig into the details of this story, it's important to highlight that many of the analyses that follow are based on the number of website visits or the number of active users of mobile apps – not on actual sales revenue.
This is partly because many holding companies do not break out revenue details for individual companies, and partly because sales revenue data are simply not available for other companies.
Southeast Asia's homegrown ecommerce success stories
Southeast Asia's consumer ecommerce market was already worth US$23.7 billion in 2018, and is growing at a rate of more than 25 percent per year.
One of the most consistent ecommerce success stories across Southeast Asia is Lazada, a Singapore-based online retailer launched by Rocket Internet in 2012. The company was acquired by China's Alibaba Group in 2016.
Lazada sells a wide variety of different products, including electronics, fashion, beauty products, food, homecare products, and more. The company's grocery offering enjoyed a significant boost earlier this year when Alibaba merged its specialist Southeast Asian grocery brand, Redmart, into the overall Lazada platform.
SimilarWeb reports that Lazada ranks in the top five 'transactional' sites by number of website visits across all six of Southeast Asia's key economies, while the company holds top spot in the rankings in both Thailand and the Philippines.
Meanwhile, App Annie reports that Lazada's mobile app is also one of the most successful in Southeast Asia, ranking in the top five most-used apps in all six of the region's top economies across the first three months of 2019.
This has particular significance when we consider that Southeast-Asian consumers are more than twice as likely to make an online purchase using a phone than a computer.
Shopee is another Singaporean success story that has grown quickly across the region since its launch in 2015, and the platform now ranks as one of the top two brands by website visits across most major Southeast Asian markets, with the exception of Singapore.
The company's mobile app performs equally well, with data from App Annie showing that the Shopee app ranked as one of the top three mobile apps across all six key Southeast-Asian economies during the first quarter of 2019.
Shopee is part of the SEA Group (previously Garena), which started life as a digital entertainment platform, developing and publishing PC and mobile games.
Like Lazada, Shopee sells a wide variety of different products, including electronics, fashion, groceries, beauty products, home furnishings, and event tickets.
See also: Top Ecommerce Categories in Southeast Asia – a closer look at the products and services that attract the greatest share of consumers' online spend across Southeast Asia.
It's interesting to note that both Lazada and Shopee started as 'marketplaces', powering ecommerce capabilities for other businesses, and even enabling consumers to sell to each other.
Critically, both Lazada and Shopee continue to adapt their offerings to the specific needs of each Southeast-Asian country, with both brands offering localised experiences in local languages via country-specific sites and tailored mobile apps.
However, Lazada and Shopee aren't Southeast Asia's only homegrown ecommerce success stories.
The region is also home to a number of successful ecommerce players within specific categories, with fashion retailers being a good example.
Zalora has become Southeast Asia's answer to ASOS, while Singapore-based Love, Bonito has grown quickly from a small online blogshop to become one of the region's hottest omnichannel success stories.
It's interesting to note that no dedicated fashion retailers make it into SimilarWeb's ranking of the region's top ecommerce websites, but Zalora makes App Annie's ranking of the top mobile apps in four of the region's six key economies.
Local ecommerce brands are a key feature in Southeast Asia
There are even more homegrown success stories within individual countries' ecommerce markets.
Local players Tokopedia and Bukalapak are particularly strong in Indonesia, which has extra significance when we consider that the country is home to the region's largest population.
Tokopedia has risen to become the top ecommerce player in the island archipelago, and despite its geographic focus on Indonesia, it has become one of Asia's great ecommerce success stories.
The Southeast-Asian 'unicorn' secured another US$1.1 billion in funding in late 2018, and reports suggest that the company is now worth around US$7 billion.
Local ecommerce brands also enjoy success across the rest of the region, although SimilarWeb's data suggest that these local players often attract less website traffic than regional ecommerce platforms like Shopee and Lazada.
This pattern is visible in App Annie's ranking of the region's ecommerce mobile apps too, with local players tending to sit lower in the rankings compared to the dominant regional platforms.
It's also worth noting that consumer-to-consumer (C2C) platforms enjoy widespread popularity across the region. Interestingly though, the dominant C2C platform differs by country, demonstrating that local needs, languages, and culture remain just as important in an online context.
C2C success stories across Southeast Asia include OLX in Indonesia, Kaidee in Thailand, Sendo in Vietnam, Mudah in Malaysia, and Carousell in Singapore.
C2C apps did not feature in iPrice's study on the region's top mobile apps, which explains why none of these apps appear in their ranking, but it's safe to say these companies' mobile apps also enjoy strong success in their respective markets.
Indeed, the latest data from App Annie show that each of these apps ranked in the top ten most-downloaded shopping apps in each respective country in mid-September 2019.
Global brands are also succeeding
Despite the dominance of local and regional ecommerce players, a number of global brands and ecommerce platforms also enjoy success across Southeast Asia.
SimilarWeb's latest analysis of 'transactional' websites shows that Samsung.com fares particularly well in Thailand, Malaysia, and the Philippines, although it's not clear from the data how many of the site's visitors actually go on to buy something directly from the site.
It's a similar story for Microsoft.com, which attracts a significant number of visitors across all of the key Southeast-Asian economies except Indonesia.
Mirroring trends elsewhere in the world, Chinese ecommerce platforms are also gaining momentum across the region.
Alibaba Groups's AliExpress brand has built strong momentum throughout Southeast Asia, with the platform's mobile app ranking in the top ten most-used shopping apps in every one of the region's six top economies.
Another Alibaba Group brand, Taobao, is also a top destination in Malaysia and Singapore, but Taobao is currently only available in Mandarin, which may explain why it hasn't enjoyed similar success in other countries around the region.
Meanwhile, data from App Annie also show that local versions of JD.com's app appear in the most-used shopping apps in both Indonesia and Thailand, although the platform does not appear in SimilarWeb's rankings for either country's top ecommerce websites.
What about Amazon?
Amazon launched in Singapore to much fanfare in July 2017, with many commentators at the time forecasting that the company would enjoy widespread success in the city state.
However, the platform has struggled to gain the momentum that many predicted, with some analysts suggesting that the company's decision to focus on grocery items has dampened its growth.
But media coverage of Amazon's local Singapore performance has tended to focus on the mismatch between expectations and reality, and – as a result – the story has become somewhat skewed.
It's worth highlighting that Amazon Singapore's local Prime Now app has gained some momentum since its launch, with App Annie ranking it as one of Singapore's top shopping apps in the first quarter of 2019 (even though – somewhat confusingly – the app appears in the Food & Drink category in Apple's iOS store, as opposed to the Shopping category).
However, App Annie's data suggest that Amazon's global / US mobile app outperforms its local app in Singapore, indicating that the limited product range offered in the Singapore Prime Now app may indeed be holding the brand back.
The success of the company's global / US app isn't limited to Singapore either, with App Annie reporting that the app ranked as one of the top ten most-used shopping apps in every one of Southeast Asia's six primary economies in the first three months of this year.
With the exception of Singapore, however, Amazon has yet to launch local offerings in any other countries around the region.
But that may be about to change.
A recent report in the Wall Street Journal suggests that the global ecommerce titan is already in talks with Gojek – one of the region's ride-hailing and delivery 'unicorns' – to form a partnership in Indonesia.
While neither company had commented publicly on the potential deal at the time of writing, we believe such a partnership would be a smart move for Amazon, especially given the logistical challenges posed by Indonesia's sprawling archipelago.
Top travel websites in Southeast Asia
Travel sites don't feature prominently in SimilarWeb's ranking of transactional websites, but this is likely because these rankings focus on the number of website visits rather than transaction value, and people are more likely to visit consumer ecommerce sites like Lazada and Shopee more frequently than they visit travel sites.
However, data from Statista's Digital Market Outlook survey shows that the travel category accounts for more than half of all consumer online spend in Southeast Asia, so it's worth adding some detail for this sector.
Data from SimilarWeb shows that a few sites, notably Agoda and Booking.com, perform consistently well throughout Southeast Asia.
Echoing a trend we saw in the broader transactional site rankings, it's worth noting that Agoda is another homegrown success story, and the Singapore-based brand holds a top-five spot in the travel site rankings for all of our six primary Southeast-Asian economies.
There are some local nuances across the region, however, especially when it comes to airline websites.
AirAsia is the only airline brand that achieves a top-five spot in more than one country, but – in a similar pattern to the retail sites we explored above – it's worth noting that the airline has adapted its offering and approach for each country to address local needs.
As we saw in the broader ecommerce site rankings, Indonesians seem to prefer homegrown brands in the travel category too, with Traveloka – another of the country's 'unicorn' startups – taking top spot according to SimilarWeb data.
It's worth reiterating that SimilarWeb's rankings are based on website traffic – not share of sales – but it's safe to assume that each of the sites listed above took a meaningful slice of the US$27 billion that Southeast Asian consumers spent on online travel purchases in 2018.
What's more, Statista's data shows that the value of the online travel category in Southeast Asia grew at an annual rate of 17 percent between 2017 and 2018, and trends suggest that double-digital growth will continue through 2019 and beyond.
A growing success story: online grocery brands in Southeast Asia
As we saw in the previous article in this series, the Food & Personal Care category saw the fastest growth in consumer ecommerce spend across Southeast Asia in 2018, so it's worth taking a closer look at which brands are succeeding in this highly competitive sector.
Just before we dig into the brand story, however, it's worth highlighting that growth in the grocery sector isn't just interesting for grocery players.
As we explained in that previous article, many people shop for grocery items on a regular basis, and as an increasing share of this activity moves online, shoppers become increasingly familiar with online shopping.
Provided these regular grocery experiences remain positive, this increased familiarity should drive greater confidence in online shopping as a whole, which in turn may lead to increased ecommerce activity across all categories.
However, setting up an online grocery business can be risky. It often takes many years for online grocery retailers to break even, and increasing competition across Southeast Asia has seen a number of high-profile brands struggle to make ends meet, most notably Honestbee.
Furthermore, grocery remains one of the most nuanced categories in retail, largely due to the influence of local tastes and cultures. As a consequence, the online grocery category remains heavily fragmented across Southeast Asia.
Many people across the region also make online grocery purchases from 'super-sites' like Lazada, but because these companies tend not to split out revenues by category, it's difficult to know which brands are winning the greatest share of the region's US$3.6 billion online grocery market.
It's clear that dedicated grocery players enjoy success too, however, with some of the region's top supermarket chains also gaining traction online.
In particular, visitor numbers to Tesco's websites in Malaysia and Thailand (via the local Tesco Lotus brand) suggest that the brand is gaining meaningful online momentum in both countries.
Bricks-and-mortar players have enjoyed success elsewhere in the region too, with FairPrice in Singapore and Lotte in Vietnam both seeing good traffic to their respective websites.
However, it's unclear what percentage of online visitors to any of these hybrid 'online-offline' retailers go on to make a purchase directly through their respective websites.
Because of local nuances in the online grocery sector, we'll explore individual markets in greater depth in later articles in this series.
Ecommerce in Southeast Asia: what happens next?
In the next article in this series, we'll look at the opportunities and challenges that will shape the future of ecommerce across Southeast Asia over the next decade.
The rest of the series will then go on to explore the local ecommerce landscape in each of Southeast Asia's six key economies.
If you'd like to get a sneak preview of some of the key data in those upcoming articles, take a look at our broader digital reports for each country by clicking the links below:
Follow our social media pages :