5 Effortless Sellerwizard Tips to Minimize Aging Stock
Stocking up is helpful, but not if that means never selling your products. In addition to taking up valuable warehouse space, aged inventory leads to increased costs as it sits for extended periods. You can take proactive measures to avoid aging stock wrecking your margins. Plus, following the correct processes can avoid the issue altogether.
What does 'aging stock' mean?
Aging stock, also known as aging inventory, refer to low-demand products that fail to sell or sell slowly. Unsold merchandise ties up working capital and incurs expensive carrying costs that erode profit margins. These items must be marked down to clear dead stock and bring in the latest products. Generally, the faster a brand can sell through its inventory, the greater its potential for profitability.
Negative effects of aging stock to your business
The effects of inventory aging don't just affect you in the immediate future – they can have long-term impacts like the following:
Reducing available cash flow: It can be risky for your company to overstock its inventory as it can strain its financial resources. Your business can experience cash flow issues if you hold onto less stock. As a result, it will be challenging for you to meet financial obligations and pay your bills. Furthermore, it can result in you having to borrow money and pay interest, increasing the financial burden on your business.
Creates storage problems: You can significantly affect your business' efficiency by keeping an adequate amount of inventory. Excess inventory can also be used to display new products or improve the layout of your warehouse or store. Maximize inventory levels and minimize excess inventory to streamline your operation.
Reduce profits: A company's profits can significantly be reduced when it has too much of a particular product. This is done by offering the product on sale.
Limits your company's flexibility: When you have too much inventory, your business cannot respond quickly to market changes. Having the right inventory allows you to remain flexible as the market changes.
Resulting in obsolescence: As a result of storing and handling excess inventory so often, companies are at risk of neglecting to purchase newer, more in-demand products, which can result in obsolete stock.
Tips to minimize the aging stock:
Streamline communication between warehouse and purchasing: Using inventory management metrics, such as aging inventory, you can determine which SKUs you have too much of or aren't selling quickly. And you only buy those items, increasing storage costs. But it's best to let your purchasing and warehouse management teams know about your decision. Therefore, your purchasing team will only order that item number unintentionally. Additionally, your warehouse management team knows that more inventory isn't coming, so they can use that space for other products.
Regularly audit your inventory: Regularly auditing your inventory improves inventory accuracy and provides visibility into what stock items aren't moving (leading to better inventory management). Knowing which SKUs perform well and which don't, you can decide how to reduce (or eliminate) the low-demand inventory – such as hosting a marketing event to increase sales.
Identify the reasons for low sales volumes: If an SKU doesn't sell, there is probably a valid reason, such as seasonality, website placement, or changing consumer trends. By identifying the cause, you can make better inventory management decisions. For instance, you might adjust your purchasing decisions or marketing promotions to reduce excess aged inventory.
Improve demand forecasting: Inaccurate demand forecasting is the #1 reason for aging inventory. This is especially true when you wrongly assume a slow-moving SKU is more popular than it is.
Aging stock report: An aged inventory report (aged stock report) tells you how long your inventory has been sitting unsold. Using an aging inventory report, you can identify slow-moving SKUs and develop strategies to increase inventory turnover and reduce dead stock.
In general, aged stock reports include the following information:
Variants of your SKUs
Number of units available per SKU
Average inventory age of those units
These reports can be manually generated using spreadsheets and routine inventory audits, but this method is tedious, time-consuming, and prone to human error.
However, with Sellerwizard, you can just automatically export inventory report at the tip of your fingers.
Introduce to Sellerwizard – Inventory Report
Sellerwizard allows you to automate the inventory report to reduce the workload and save time. It can help you run an e-commerce business more efficiently.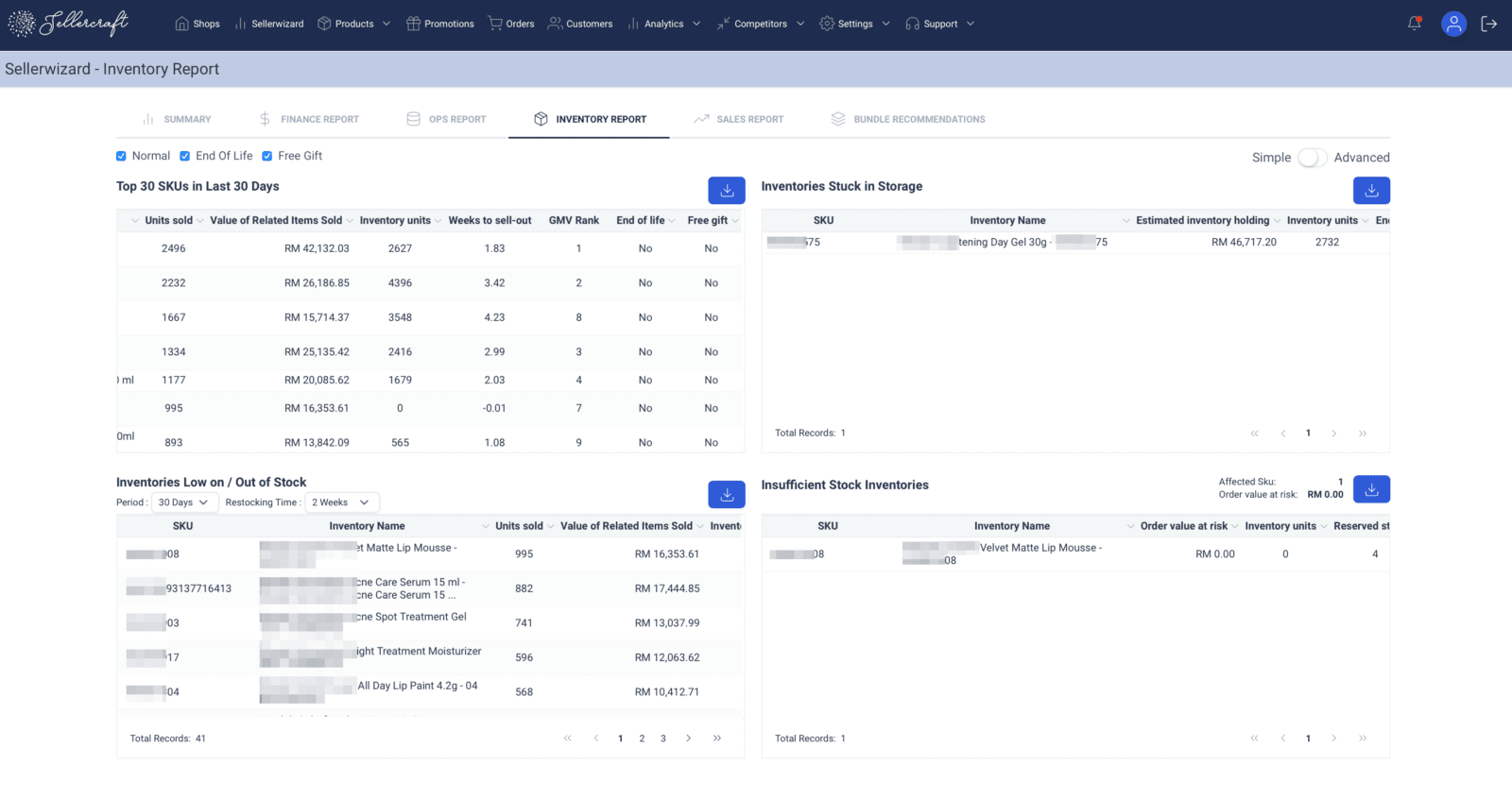 Sellerwizard Inventory Report (Full View)
You can access the entire inventory report data dashboard once you have registered and synced your e-commerce stores. The dashboard has four sections: the top 30 SKUs (last 30 days), the stock sitting in storage (aging stock), the store that is out of stock, and the low stock.
Using the' inventory stuck in storage' section, you can view all information about your aging inventory before it burdens your business. Looking at the 'inventory stuck in storage' section, you can see which products need attention. It tracks your stocks for the last 30 days.
With the information given, you can now clear these old stocks from your business.
Ways to clear old stocks
Clearance or sale: You can clear excess and/or aging inventory in your online store by putting items on clearance and holding sales. Offering discounts on selected styles can be a very effective way to ensure seasonal inventory moves. Your inventory can be depleted by offering discounts to encourage customers to buy your products. Another excellent way to clear unsold or outdated inventory is to have a steeply discounted clearance section on your site. You can also offer certain items "for free" in a special bundle. However, your brands' warehouse management and inventory systems must be synced. Stock levels are also crucial to a successful sale or clearance process. Make sure to establish operational project management techniques in place if you plan on having a clearance sale to prevent your customers from getting a negative experience of your brand.
Donation: In cases where your brand sells aging products, donating them could help clear inventory quickly (and efficiently). If you donate inventory, you may be able to claim a tax deduction. This can also build and maintain your brand's reputation as one that takes on specific social responsibilities and contributes to helping those in need. This reputation can then be used in marketing to attract new customers. The long-term benefits of donating outweigh the short-term costs. It has been found that 87% of consumers will buy if brands show a commitment to a cause they care about.
Refine the product listing: Photos, descriptions, location, and more affect whether someone converts on the product detail page (PDP). Consider making small changes to the product page of a product that isn't selling well.
Cross-sell aged stock: As a result of cross-selling, customers are encouraged to buy complementary products based on what they've looked at or put in their cart. And cross-selling increases sales by 20%. This makes it an effective way to reduce your aging inventory.
Why does aging stock report matter to your business?
You should be aware of your business' inventory aging for a number of reasons:
Keep your stock stocked up: By tracking stock aging, you can pinpoint which products perform best and reorder them accordingly.
You can quickly identify and eliminate underperforming stocks: Your inventory turnover rate can fall, while laggard products hide behind more successful products that boost your sales. It is especially important to assess inventory age on marketplaces like Amazon, where products that sit in Amazon's warehouse for more than six months get charged long-term storage fees. Assessing inventory age helps identify problems with lingering stock.
Identify quality issues with the product: Sometimes, it's not the product idea that needs improvement but rather the quality. Overstocked products can be identified by analyzing inventory aging, which will help you determine why shoppers aren't buying them and then work to improve conversion rates.
Boost your store's decision-making: It allows you to make informed decisions about your store's next steps, such as expanding or discontinuing a product line.
Keep costs low: Dead stock is an inevitable part of selling online. In addition to paying for inventory, you also have to pay for storage, which wastes your precious budget. Inventory aging identifies problematic stock and prevents further losses.
Your aging stock can be minimized with this powerful application designed by former Lazada / Shopee experts.
With this intelligent tool, your business will surely perform better. More sales will mean more revenue and a better bottom line if your business performs at its best. Easy right?
You can connect your stores (Shopee, Lazada, Tiktok Shop, Zalora, Shopify, and more). This tool is available in Malaysia, Singapore, Thailand, Indonesia and Philippines.
Stop squandering your resources and effort by tracking them manually when you have a powerful and free tool here!
Conclusion
In conclusion, stocking up on inventory is helpful for businesses, but only until it does not lead to old stocks. Aging stock refer to products that fail to sell or sell slowly. Reducing available cash flow, creating storage problems, cutting profits, limiting a company's flexibility, and resulting in obsolescence can negatively impact businesses. The business can, however, reduce the number of aging stock by streamlining communication between the warehouse and purchasing departments.
These include regular inventory audits, identifying the reasons for low sales volumes, improving demand forecasts, and generating reports about the old stock. Automating the inventory report process with software like Sellerwizard, which provides old stock data is possible. You can use this report to promote clearance sales and discounts to clear old stock. These measures can simplify inventory management and increase profitability for businesses.