Which category of products are in demand in SEA
In the first post in this series of articles on ecommerce in Southeast Asia, we revealed that hundreds of millions of people around the region already shop online, with the figure growing by 17 percent in the past 12 months alone.
Estimates vary as to how much Southeast Asians spend online, but analysts all seem to agree that the region's digital economy is set to expand rapidly over the next few years, with Google and Temasek predicting that online consumer spend across the region's six key economies will reach almost a quarter of a trillion dollars by 2023.
In this article, we'll dig deeper into the data to explore what the region's online shoppers are actually buying, before looking at some of the top ecommerce brands and platforms in our next article.
But first, let's get some global context.
The global ecommerce market
Data from Statista show that people around the world spent close to US$1.8 trillion on online consumer goods purchases in 2018, and an additional US$750 billion on online travel purchases.
The online market for digital content was worth close to US$130 billion in 2018, with video games accounting for more than half of this total. Statista reports that gamers spent more US$70 billion on game downloads last year.
However, the market for digital music remains much smaller. Even once we factor spend on streaming services like Spotify, global consumers spent barely US$12 billion on digital music in 2018.
Online travel still going places
Travel remains the single largest global ecommerce category in terms of total consumer spend, but this is perhaps unsurprising given the high average value of flights and hotel bookings compared to purchases in other categories.
Travel's contribution to total spend varies considerably by market, with the sector accounting for an increasingly smaller share of overall activity as ecommerce becomes more broadly established.
Despite its strong base, the online travel sector enjoyed double-digit growth in consumer spend between 2017 and 2018, buoyed by strong growth in China.
China already claims second position in Statista's global travel-spend rankings, but the country's travel market continued to grow by 17 percent in 2018, adding more than US$22 billion compared to 2017 spend to reach an annual total of more than $158 billion. For context, global growth in online travel spend averaged 11 percent in 2018.
However, 2018's title for fastest-growing online travel market goes to a Southeast-Asian country. As we'll explore in greater detail below, Thailand's online travel sector grew by 28 percent last year, adding more than US$900 million in the space of just 12 months to reach a total market size of more than US$4 billion in 2018.
Global ecommerce is fashion-forward
Globally, the second biggest ecommerce category is Fashion & Beauty, accounting for over half a trillion dollars of consumer spend in 2018 alone.
The Fashion & Beauty category is growing much faster than the travel sector though, with global online consumer spend increasing by 17 percent compared to 2017.
Southeast-Asian countries saw some of the fastest growth in this category, with Singaporean consumers spending a whopping 30 percent more on fashion and beauty purchases in 2018 compared to the previous year.
However, Fashion & Beauty isn't the fastest-growing category in Southeast Asia, as we explain below.
Southeast Asia's ecommerce trends
Statista reports that consumers across Southeast Asia spent more than US$53 billion in 2018 on online purchases of consumer goods, travel products and services, and digital media (e.g. video on demand, music streaming services, and video games).
This figure was more than US$9 billion higher than the total for 2017, representing a year-on-year increase of more than 20 percent.
Globally, Statista reports that travel accounts for 28 percent of consumers' ecommerce spend, but the category accounts for an even greater share in Southeast Asia, where travel's share rises to more than 50 percent of overall spend.
Google and Temasek report that more than 40 percent of all travel bookings made in Southeast Asia are made using online channels and platforms.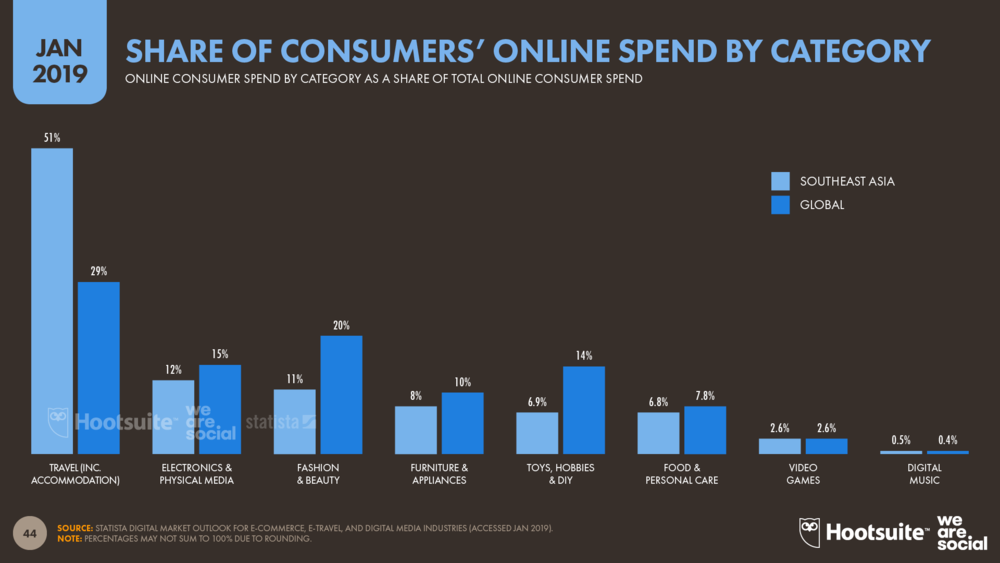 Travel's share of total ecommerce spend is even greater in some individual Southeast-Asian countries, with the category responsible for more than three-quarters of online spend in the Philippines, and almost 60 percent of total spend in Vietnam.
Despite this strong base, Statista reports that Southeast-Asian consumers spent 17 percent more on online travel purchases in 2018 compared to 2017, with total market value growing by US$3.9 billion to reach almost US$27 billion.
Other analysts report similar growth trajectories, with data from Google and Temasek's 2018 e-Conomy SEA report suggesting that the sector will experience growth of more than 13 percent in 2019, to reach total spend of US$34 billion for the year.
Online grocery spend accelerates across Southeast Asia
Around the world, the Fashion & Beauty category showed the fastest growth between 2017 and 2018, with total ecommerce sales value increasing by 17 percent year on year.
However, across Southeast-Asian countries, the Food & Personal Care category saw the most rapid gains.
Indeed, Southeast Asian countries account for all of the world's fastest-growing online grocery markets in Statista's global Digital Market Outlook survey.
These findings have significance beyond the Food & Personal Care category too, because growth in online grocery activity often precludes an overall increase in spend across all consumer ecommerce categories.
Our hypothesis is that this correlation is driven by frequency of interaction. Many people shop for grocery items on a regular basis – often weekly or fortnightly – and if an increasing share of this activity moves online, shoppers become increasingly familiar with online shopping.
Provided these regular grocery experiences remain positive, this increased familiarity should result in greater confidence in online shopping overall, which in turn may lead to more purchases across all categories.
Consumer products experiencing strong growth
Southeast Asia's strong ecommerce growth isn't restricted to the grocery sector, either.
Statista reported that online spend across all of its consumer goods categories increased by 27 percent in Southeast Asia in 2018, with the sector as a whole growing by almost US$5 billion year on year to reach US$23.7 billion.
After groceries, Statista reports that Toys, Hobbies & DIY saw the fastest growth in online consumer spend, with purchases across Southeast Asia growing by 29 percent in 2018 to pass US$3.6 billion.
Meanwhile, the Electronics & Physical Media and Furniture & Appliances sectors both grew by 26 percent during 2018, with total online sales across the region approaching US$6.5 billion and US$4.2 billion, respectively.
However, Southeast Asia's Fashion & Beauty ecommerce sector shows some even more interesting trends.
Click here to read all of our reports on Southeast Asia.
Globally, Statista reports that the category experienced the fastest growth of all its online consumer goods categories in 2018, with annual spend up 17 percent versus the previous year.
The company's data also show that Southeast-Asian nations posted some of the category's greatest gains in 2018, with Singapore in particular seeing a 30 percent jump in category spend versus 2017.
However, despite these impressive gains, Southeast Asia's online Fashion & Beauty category grew more slowly than all of the other consumer goods categories in Statista's Digital Market Outlook study.
But "slowly" is a relative term. The online Fashion & Beauty category still grew by an impressive 21 percent in Southeast Asia last year, generating an additional US$1 billion compared to 2017 category spending.
The Fashion & Beauty category is now worth US$5.75 billion in Southeast Asia, but our analysis suggests that there's plenty more room for growth.
In particular, despite the widespread availability of global brands, it's important to highlight that local needs, tastes, and cultures will play a critical role in the growth of Southeast Asia's fashion and beauty industry.
For example, the region's large – and growing – Muslim population represents one of the biggest opportunities for ecommerce growth in Southeast Asia.
Similarly, tapping into the growing appeal of Asian influencers from countries like Korea, China, and Japan, may also help brands to accelerate their growth in Southeast Asia. We'll explore more of these opportunities in an upcoming article.
It's also interesting to note that no dedicated fashion retailers make it into SimilarWeb's rankings of the top transactional websites in Southeast Asia based on total visitor traffic.
However, it's a different story when it comes to mobile apps, with regional fashion retail powerhouse Zalora making it into App Annie's ranking of the top ten most-used shopping apps in four of the region's six key economies during the first three months of 2019.
We'll explore the region's top ecommerce platforms and retailers in more detail in the next article in this series.
Digital music struggles
Despite the impressive growth in online spend on physical products, consumers in Southeast Asia still seem less willing to pay for digital content.
Statista reports that almost 100 million people across the region paid for digital music in 2018, but that their combined spend for the year across downloads and streaming platforms reached just US$267 million.
That means that the average buyer spends roughly US$2.70 on digital music in a year – that's less than 25¢ per month.
Furthermore, that's based on those people who actually pay for music. For perspective, Statista reports that 265 million people in Southeast Asia bought consumer goods online in 2018, meaning that barely 37 percent of them bought digital music over the internet.
Statista reports that, overall, ecommerce shoppers in Southeast Asia are less likely to pay for digital music than the global average, but – on a more optimistic note – data from GlobalWebIndex shows that Southeast Asians are slightly more likely to pay for music streaming services compared to the global average.
However, less than a quarter of internet users around the world pay for music streaming services today.
The number of people paying for digital music is rising steadily, but Statista's data shows that the category is growing much more slowly than Southeast Asia's digital economy as a whole.
As we saw above, online spend on consumer goods across the region grew by 27 percent in 2018, but growth in digital music spend was three times slower, at just 8.8 percent.
Pricing may be one of the reasons why spending on digital music continues to lag in Southeast Asia. For example, a premium subscription to Spotify in Indonesia costs just IDR 49,990 per month (around US$3.50), compared to US$9.99 in the United States.
However, a more obvious reason for low levels of spend and slow growth is the widespread availability of free music on platforms like YouTube and Spotify. In countries like Indonesia, where the equivalent average income is less than US$250 per month, it can be difficult to justify paying for content that's easily available for free.
But it's not all bad news for digital content. Despite the challenges faced by music brands, the market for video games in Southeast Asia looks more promising.
See also: Understanding the Esports Opportunity – all the data, trends, and insights you need to understand the size and growth of esports around the world.
The region's gamers spent close to US$1.4 billion on games in 2018, an increase of US$166 million (13 percent) compared to 2017.
Meanwhile, the regional market for online video content is growing steadily too, with Statista reporting that Southeast Asians spent 15 percent more on streaming platforms like Netflix last year compared to 2017.
Top ecommerce players in Southeast Asia
In the next post in this series, we'll take a closer look at the platforms and retailers that are winning the greatest share of Southeast Asia's growing ecommerce spend.
We'll then go on to look at key opportunities and challenges for ecommerce across the region, before taking a closer look at the country-by-country story.
In the meantime, if you'd like to explore the region's broader digital landscapes, you can find all of our reports on individual Southeast-Asia countries here: